A series of books on the achievers of the Pacific.
Each book features characters from legend, historical figures and contemporary achievers.
Samoan Heroes
Storylines Notable  Book Award winner 2016!
Samoan Heroes is written for Pasifika young people!
To encourage them to read more by providing reading material they can relate to, in language appealing to them. Many Pasifika young people have lower literacy levels than other youth in NZ, partly due to a shortage of reading material they're interested in.
To inspire them with the positive life stories of achievers they know, describing the challenges these figures went through and how they overcame them to become successful e.g. most people know Dwayne Johnson as one of the most recognisable figures on the planet. But did you know that he once had to sleep on mattresses found in a rubbish collection and had only $7 in his pocket?
To support the preservation of historical knowledge. Our young people are proud of their cultural heritage but often know very little about the historical achievements and figures of significance in their cultural history.
$

12.99 –

$

30.00 + GST
Select options
We Are the Rock
Reading Warrior creates resources that help students learn about their own cultures, strengthen their literacy and inspire them with stories of positive role models and achievers.
We are the Rock is a collection of inspirational profiles of Niueans who have overcome great challenges and achieved amazing goals! These achievers talk about the obstacles they faced in their lives and how they overcame them. They give advice to others about how to achieve their life goals. They also explain what being Niuean means to them.
Paperback only.  No e-book available currently.

Look inside the book here:
$

30.00 + GST
Add to cart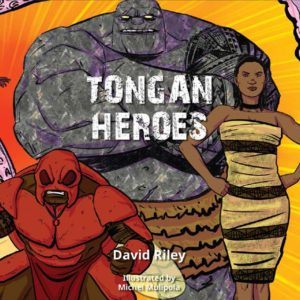 Tongan Heroes
Tongan Heroes is the third book in the Pasifika Heroes series. It follows We Are the Rock (Niuean) and Samoan Heroes.
Tongan Heroes tells the inspirational stories of achievers who have Tongan ancestry. It includes legends like Muni and Kavaoanu; historical figures such as Queen Salote Tupou III and Professor Futa Helu; and contemporary heroes like Manu Vatuvei, Jonah Lomu, The Jets, and Dr Konai Helu Thaman. The book is written to inspire young Tongans, to encourage reading and promote literacy. The book is illustrated by Samoan comic book artist, Michel Mulipola.

Look inside the book here:
$

12.99 –

$

30.00 + GST
Select options