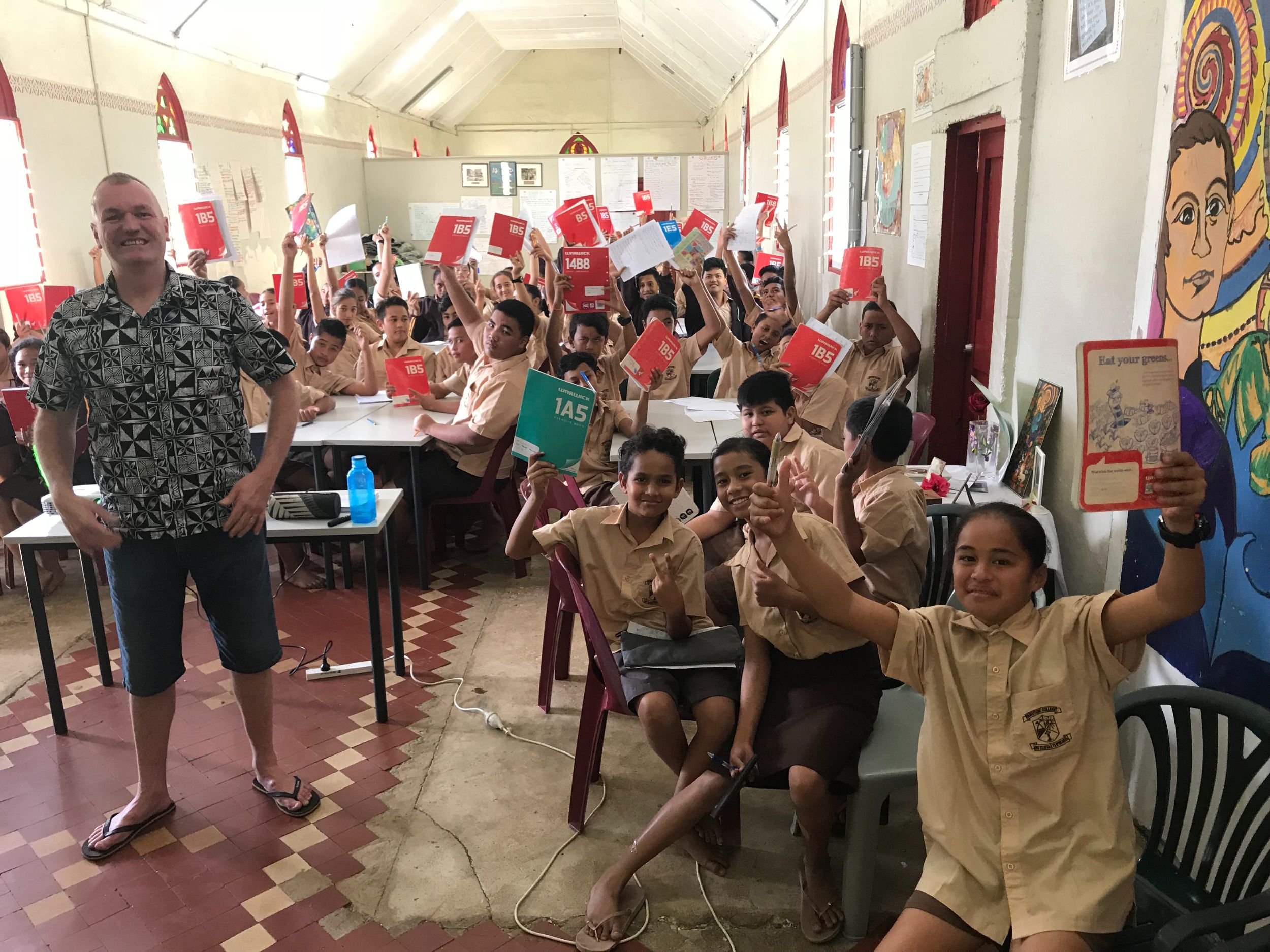 Te Kaupapa – the idea
A group of 10-15 students will work with author-teacher, David Riley, to create a published book. I have a number of themes which have worked well in various schools including Matariki, celebrations of home and wellbeing, or the school may have another theme they wish to explore.
The book will be published as a paperback and eBook so families and extended family can access it at home and around the world. It will be launched at the school or another venue decided by the school.
The school will select the students according to their own focus. The students might have writing, journalism or storytelling aspirations, or maybe they need encouragement with their writing or self-esteem.
Here's a Radio NZ report of a project I did with St Mary MacKillop School in Māngere:
Te whakatutuki – the process
Where: at your school
When: I work with your writers once a week for an hour. I also give them tasks to complete during the week. The project runs for approximately one term.
Note: the project can be moved to an online format if there are changes to New Zealand's alert levels due to COVID-19 or other disruptions.
Ngā tāngata – the people
David grew up in Māngere and has 25 years' experience teaching English and Drama in South Auckland. David has written over 50 books for young people and run writing, reading and drama workshops with students and adults across Aotearoa and the Pacific. He's helped a number of communities to create and publish their own books including Flat Bush School (Ōtara), St Mary MacKillop School (Māngere), Kedgley Intermediate, Panama Road School, Tangaroa College, the Auckland Tuvalu Community Trust, the Vagahau Niue Trust and the New Zealand Kiribati Trust.
"It was a great experience for me because it was the first time I ever wrote a book and it was fun writing it with an amazing group of people from my school. I had the greatest opportunity to leave a legacy for my school and to be an author this young."
Elizabeth. Student author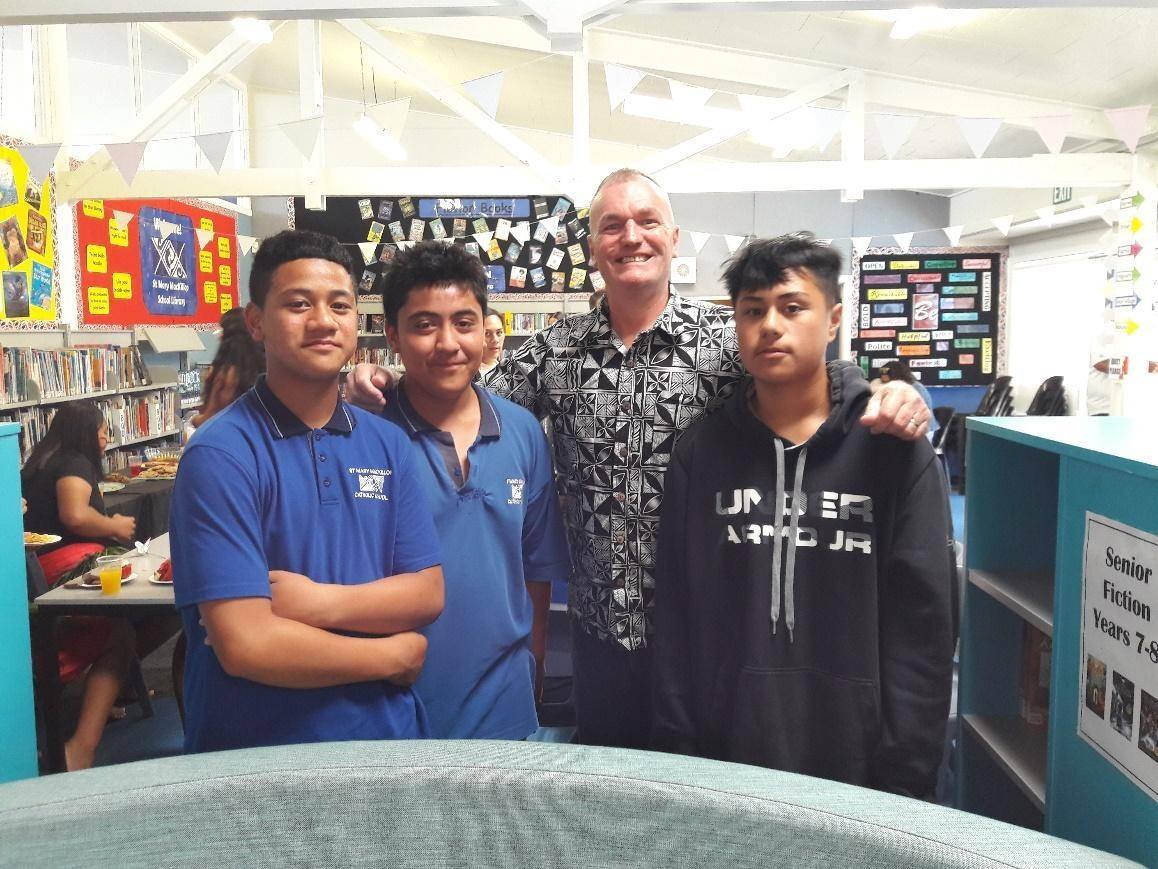 Ngā paearu – how the project benefits young people
Mental wellbeing supported
Research shows that when young people feel a strong sense of belonging to the places they live, that this also helps with their mental and emotional wellbeing. This book will celebrate that. They will also see how possible it is to create books and hopefully some of them will take this knowledge and use it to create their own work in the future. The book will be launched in the school as a celebration with the students organising and running the launch.
"When David asked me about our students creating a book with his support, I immediately endorsed the project. I knew it would inspire our students. Having this experience while in primary school is amazing, and to have the chance to work with such a supportive mentor in David is life changing. Our students have been involved in the planning, designing, drafting, editing and publishing of their book. They will carry the memory of this with them as they move onto the next stage of their educational journey. Flat Bush School is very grateful to be part of this project. It has resonated in a powerful and impactful way across our school community."
Banapa Avatea. Principal. Flat Bush School
A sense of achievement and fulfilment from the creative experience
Students will learn why it's important for all of us to know how to write well, and learn some useful writing skills including:
Writing brain warm ups
Sensational sentences
Dynamic dialogue
Fresh similes
Talking senses
Editing
Tamariki will experience the thrill of being published authors and hopefully some of them will be inspired to become writers and storytellers in the future. Working with a professional author-mentor who comes from South Auckland and will share with them his journey, shows the students that being a writer is achievable. The book will be launched in the school as a community celebration with the students organising and running the launch.
"This was an amazing experience for the students. They saw the writing process authors go through and were photographers for their own book. The biggest learning was realising they can ALL write and ALL have the potential to be an author. It was definitely a confidence boost for our not so confident writers. All students felt that through writing this book, their voice would be heard by others. We now have a rich resource to use as part of our reading programme within our school and one that all students will have a connection to."
Silo Metai-McCarthy. St Mary MacKillop School
Thriving whānau
Tamariki will write about topics of their own choosing within the overarching topic, with the assistance of their families; students will take the photos for the book with the assistance of their families; students will work together to organise the book launch and their families will be invited to participate in the launch through attendance, speaking, performing or any other ways they might like to contribute. Our families have amazing strengths in storytelling in all forms. It also gives families the opportunity to see their young people excelling as they grow in bravery, creativity, confidence and mental wellbeing. The launch will bring families and communities together to celebrate the young people and their whanau, the school and the kaupapa.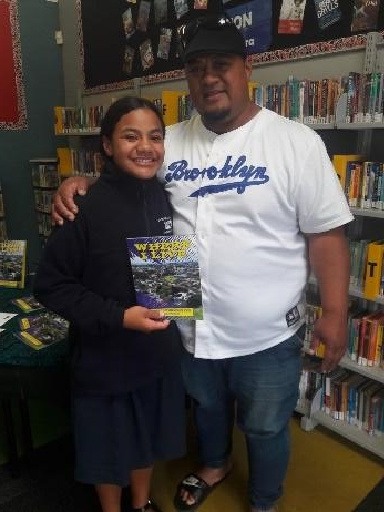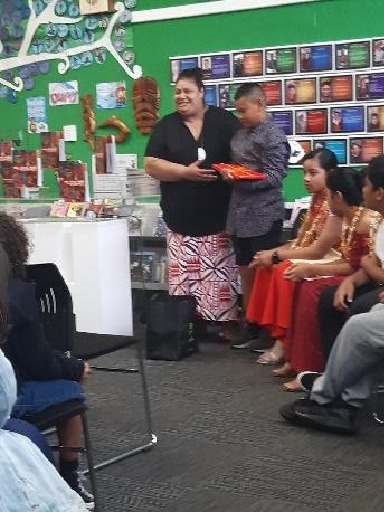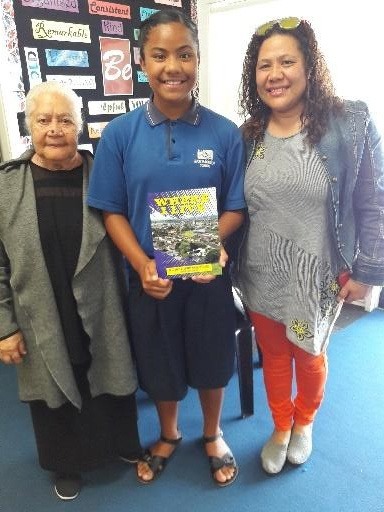 "I like sharing my stories and I want people to know how good I am and how brave I am."
Jessica. Student author
Ngā putea – the costs
Please email me at david@readingwarrior.com to find out about the project costs.
Book launch at Tupu Library
Feedback from educators
David understands how to get young people to dig deep, process thoughts and write content in a tight package. How proud am I to see and hear our students speaking their stories and memories. To watch them processing these with ease and then work to deadlines. The end product is beautifully presented and now we have students who are published authors before they hit year 11.
Falefatu Enari
Principal. Pacific Advance Secondary School
I just wanted to share how much I feel honoured that you chose our school and I got to work with you, David. You showed me how to be cool, calm and collective with writing, to keep it fun and if the children are happy with it, let it be.
Lolohea Anne Vaka. Flat Bush School
Feedback from students
What's something good you learned about yourself as a writer from being in this project?
That my imagination is amazing. Nathaniel.
That I can write. Thx Tiare.
I learned that I'm pretty smart.Kairangi.
I can have more fun with my writing and less serious. Amber.
That writing is not as complicated as I thought it is. Sienna.
Writing is easier when broken down into steps. Examples make writing easier. Grace.
I'm slowly getting better. Juleo.
That writing can be fun, exciting and interesting and I have a different imagination from others and that some part of me loves writing. Tabeta.
It was fun to write so I'm this guy now Iona.
I learned that I have a good imagination, my brain runs wild! Lovania.
I have good ideas and I can do much more than I thought I could. Georgia.
That I can make a big piece of writing by putting small pieces together. Natana.