This Special Place
$4.95 – $24.95 + GST
"Happiness fills our street, people breathe it in like sweet air."
"When I'm with my family, in this special place,  I wish I could never leave."
In This Special Place, children from Flat Bush School share what they love about growing up in Ōtara, South Auckland. Watch out world, these ten young authors are coming …  with their aroha, commitment, passion and talent!
Check out an article by Read NZ Te Pou Muramura about the project.
Look inside the book by clicking here: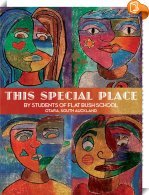 Description
Paperback 978-0-473-54323-5
PDF 978-0-473-54324-2
48 pages
190mm x 250mm
Related Products
In My DNA
Ten young people from Pacific Advance Secondary School worked with teacher-author David Riley to share stories of the people, cultures and places that make them who they are, bring them joy and inspire them to be excellent.
'I appreciate those cultural teachings because they're part of my DNA … I will always remember what my grandma taught me, wherever I go.' (Christian Faimalo)
Look inside the book by clicking here: 
$

4.95 –

$

24.95 + GST
Select options