Kia ora!
This is the online home of Reading Warrior, the publishing house of award winning Kiwi writer and teacher, David Riley. I write books and teaching materials for young people and educators.
to help young people with literacy
to help them learn more about their cultures
to inspire them with stories of positive role models and achievers
New work
Order now – two new books about the WBO Heavyweight Champion of the World!
Powering Up with Joseph Parker for confident readers.
Take a look inside the book:
Reading All Stars: Joseph Parker for younger or not so confident readers.
Take a look inside: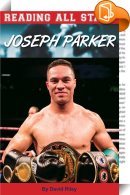 Resources
Go to FREE STUFF  to download READ TO SUCCEED WITH THE WARRIORS or READ TO ACHIEVE WITH THE ALL BLACKS – free workbooks that teaches reading comprehension skills using top New Zealand teams.
Go to the SHOP to find out more about my books and plays, and to purchase either physical books or downloadable e-books.
Check out my BLOG if you want to read my latest thoughts.
For information on booking me for a visit to your organization, go to the WORKSHOPS page.

About me
If you want to find out more about my background or make contact, hover over the ABOUT tab. Please feel free to contact me, I'd love to hear from you.

Thank you
David