Night of the Dance – Pō o te 'Ura
$9.95 – $24.95 + GST
Koromaūariki had a close relationship with his dad, the legendary superhero, Tinirau. But there was one thing that bothered him. Sometimes Tinirau would wake up in the middle of the night, go outside … and disappear for three days.
When he came home he'd dance into the house wearing a fresh, colourful and fragrant pandanus seed necklace. What was going on?
Find out in Night of the Dance – Pō o te 'Ura, a Cook Islands legend retold by David Riley and translated into Cook Islands Māori by Mareta Tere.
Look inside the book by clicking here: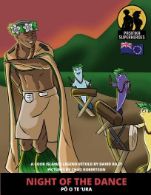 Description
Hard cover 978-0-9951402-8-8
PDF 978-0-9951402-9-5
16 pages
210mm x 275mm