What could we say to those who built a foundation for us while we still can? Rocky 'Soul Man' Johnson, father of Dwayne Johnson, passed away suddenly last week. "Say something good about me." That's what Dwayne thought his dad would want from him at his funeral. Here's what he might have said … and what we might take from it too:
Dwayne would probably thank his dad for introducing him to professional wrestling. Rocky Johnson was a well-known wrestler in the 1970s and 80s, the first African-American to win the WWF Intercontinental title.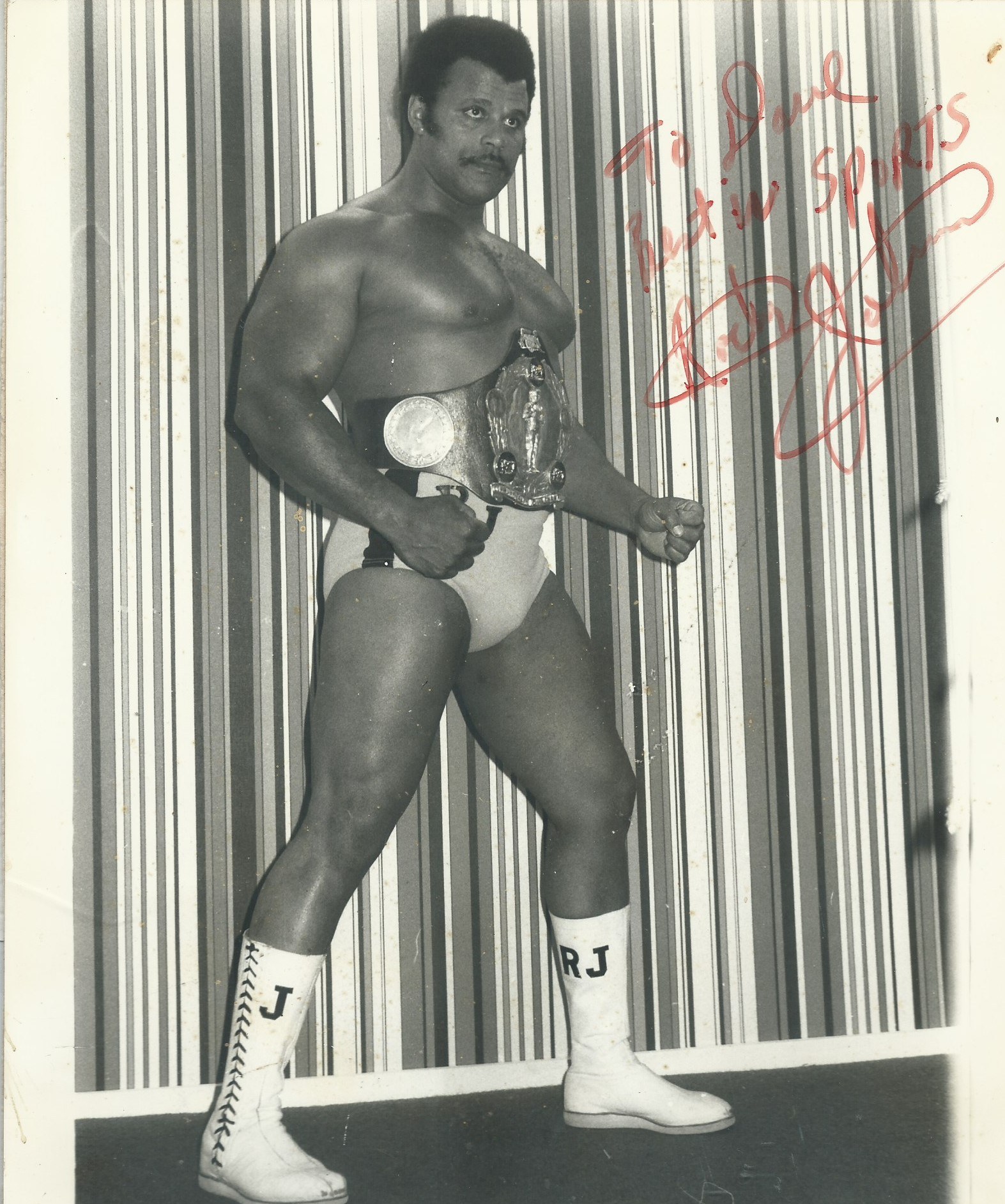 Rocky Johnson. Picture courtesy of Dave Cameron.
"I loved watching my dad wrestle and playing with his championship belts," Dwayne says.
Wrestling was part of Dwayne's mother's side too. His grandfather is legendary Samoan wrestler, Fanene Peter Maivia.
By the age of six, Dwayne was practising drop kicks in the living room and head locks on the family dog or friends at Richmond Road Primary school in Auckland.
Fanene Peter Maivia. Picture courtesy of Dave Cameron.
'I wanna wrestle one day like you and Grandpa,' Dwayne told his dad one evening.
'Aww you're just a kid dreaming. You'll grow out of it.'
The next day at school, Dwayne told his friends all about his dad, the pro wrestler.
'That stuff is fake!' laughed one boy.
'Want me to show you how fake it is?' Dwayne replied.
'Oh really? How?'
'Like this!'
Pile drive!
That move got Dwayne sent home from school . . . and pile drived by his mum!
Dwayne played football for the University of Miami Hurricanes
Later in life, Dwayne's dream was to play pro football. He tried his best to achieve that goal but just wasn't good enough. He was cut from the team he played for. He called his dad.
'I want you to train me, Dad,' he said. 
'For what?' Dad replied.
'Wrestling.'
'WRESTLING! Son, I don't want you to go through what I did. It's tough.'
But Dwayne was serious. He bought a notebook and took it everywhere, writing ideas for new moves. He listened carefully to his dad's coaching. He wrestled wherever he could, in barns, at carnivals, hoping for an opportunity . . .
The opportunity came one morning when Vince McMahon, owner of the WWE, invited Dwayne to audition. Purple tights from Uncle Tonga – check. White boots from dad – check. White knee pads from sports store – check.
'You look great son,' Dad said. 'But the most important thing is to go out and shine. You've gotta electrify!'
The rest is history.
Dwayne and his mum, Ata Maivia.
There's no doubt having a father and grandfather in the wrestling business made things a lot easier for Dwayne. Training. Guidance. Contacts. He had advantages that a lot of aspiring wrestlers never would have had. Add to that the encouragement and support of his mum, Ata, who also knew about the world of pro wrestling, having performed with her father Peter.
But he still had to start at the bottom. And work. And grind. Just like we all do.
My mum left school at the age of 15, like a lot of people of her generation. As for my dad … he probably didn't attend much school beyond primary. But both my parents worked hard at the jobs they had and showed me what it was like to go to work, day after day, year after year. In that sense they gave me an amazing foundation of values which has benefited me greatly.
"I lost him just like that, didn't get a chance to say goodbye to him," Dwayne said. "I'd give anything right now to give him a big hug and a big kiss and just say thank you and I love you and I respect you. But I didn't get a chance to say that."
"Say something good about me."
Maybe the best thing we could say to our parents and grandparents or whoever are the people in our lives who built a foundation for us, while we still can, is those same words Dwayne wishes he could say: "Thank you and I love you and I respect you."
You can read more about Dwayne's inspirational life, how he went from having just $7 in his pocket to becoming one of the most popular entertainers in the world, in Samoan Heroes, available here https://readingwarrior.com/product/samoan-heroes/