The 2017 NRL season is about to begin and I want to encourage all who work with young people to consider what a rich resource of material we can get from rugby league and other sports to help engage students in our schools and classrooms.
Here's a few ideas:
Study rugby league jerseys as visual language texts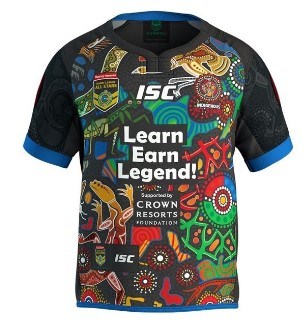 The 2017 Indigenous All Stars jersey was designed by 20 year old Kalkadoon woman Chern'ee Sutton, from Mount Isa, in north-west Queensland. The jersey is full of Indigenous Australian symbolism. An example are the animal footprint designs which Chern'ee says, "connect us as Indigenous people to our country and this land for all time."
Look at rugby league players engage with their culture
New Zealand Warriors' player Shaun Johnson recently visited Laos, the home country of his mum. Shaun has tattoos that represent his Laotian heritage but this was the first time he had actually been there and he's keen to learn more about his mum's culture. "I want to come back to New Zealand and learn Lao, and then go back and do some things over there with footy," he said. Visiting Lao was a moving experience for Shaun and his family.
Find out the different ways that rugby league helps people
Obed Kahwin was born in Ivory Coast, West Africa. When he was a child, his family walked one month through jungle to escape war. They eventually made it to Australia. Playing rugby league helped Obed make friends with Australian young people and made the process of learning a new culture a little easier for him.
Examine the ways rugby league players try to help others
The Brisbane Broncos new captain is Darius Boyd. But two and a half years ago, the pressures that come with being a professional athlete were too much for Darius. He was suffering depression and checked himself into a rehab clinic. "Going to rehab was the best thing I ever did," Darius said. "If it wasn't for that, I wouldn't be captain today, I wouldn't be happy."
There's a lot of potential to make engaging teaching material if our students enjoy rugby league. But even if they don't we can take the same thought towards whatever our students are interested in. It just takes a little time speaking with our students, asking questions and doing some research.
Have you found some amazing lesson ideas from things your students love?